Dandelion Greens

They will be bitter but rich in iron--
your spring tonic, your antidote to sleep.
Eat them because they are good for you.
Eat them in joy, for the earth revives.
Eat them in remembrance of your grandmother,
who raised ten children on them. Think
of all the dandelions they picked for her,
the countless downy seeds their laughter spread.

This is the life we believe in--
the saw-toothed blades, the lavish, common flowers.

-Jane Flanders
I'm going to be very busy for the next few weeks. My time as an MFA student (Master of Fine Arts in Creative Writing) is coming to an end. I graduate December 19th! Woo hoo! I will spend the time until then going to lectures, reading beautiful things, writing beautiful things in the company of beautiful, beautiful people. I deliver my senior lecture this Saturday morning bright and early. My topic is Anorexia in Poetry. I have a lot to say, a lot of great poems to analyze and dissect. I'm keeping my fingers crossed.
With all of this going on, I probably won't be lurking around the blogosphere as often as usual. I'm hoping that my eating disorder does not make an appearance. She is not invited to my senior lecture, my senior reading, the graduation ceremony. I don't want to see her at all during this happy time. I should be proud of myself. I have worked hard and accomplished a lot in spite of her. She will not take that away from me.
The night before I graduate, my boyfriend booked a dinner reservation at my second favorite restaurant in Los Angeles-- Rustic Canyon. Mmm. Did I mention my eating disorder is not invited to that either? This is a time to celebrate, not a time to count calories. I'm having a glass of wine. I'm not worrying about anything. I'm going to breathe and relax.
I just hope I remember that when the time comes.
On a side note, I bought a little tiny miniature Christmas tree yesterday. It's alive! I grew up in a house that only had synthetic trees, so this is my first time ever having a real, live, sap covered Christmas tree. It isn't decorated yet, and it looks a little Charlie Brown, but I like the little guy. My cat likes it too.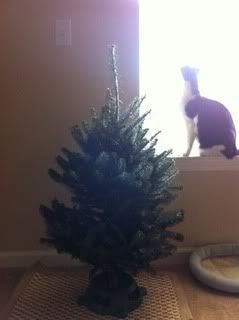 Merry Christmas!