Since my last post (thank you all for the advice and support!) I decided to quit my job. My decision factored in many things. It wasn't just about my eating disorder. It was a bad situation and I decided it was best for me to move on. So that's what I did. And I don't regret it. In fact, I feel empowered by my ability to stand up for myself.
Wednesday was my 27th birthday, though it didn't exactly feel like a day for celebration. My eating disorder ruined the entire evening. My boyfriend was taking me out for dinner after work. When he came home to pick me up I was putting on my makeup and doing my hair. I was in a good mood, a normal mood. So was he. But that all changed once it came time for me to get dressed. None of my clothes seemed to fit me correctly. I felt uncomfortable and large and everything felt tight. I became really anxious. My mood plummeted. I changed jeans three times. I kept dissecting myself in front of the mirror and mumbling to myself. My boyfriend sort of stood back in horror. It had been months since he'd seen me like this, but he knew what the problem was. He tried to tell me I looked beautiful no matter what I wore but I told him I looked humongous. He disagreed. He said, "I don't know what you see when you look in the mirror. You have nothing to compare yourself against. I know you think you're fat, but if there were an actual fat person standing next to you, you'd see that you're nowhere near it."
I just blew past him into the bedroom and changed clothes again. I was so anxious I didn't even want to leave the house. My throat felt tight and I started to cry, but I held it in. I grabbed my purse and we left. The entire way to the restaurant, eating disordered thoughts ran wild. My boyfriend's mood had dropped too because I was in such a bad mood it had affected him. Neither of us spoke. I sat there thinking things like, "I'm never going to eat again. I have to lose 10 lbs. 20 lbs. I am an animal. I am disgusting. I am not eating dinner. I'm not eating anything. Not today, not tomorrow. Not ever."
By the time we got to the restaurant, I decided to have a salad and a margarita. I don't normally drink, except on my birthday or other special occasions. But this occasion didn't feel special at all. We barely spoke all through dinner. I barely ate. We went to have coffee afterward and things started to look up slightly. I got a phone call from my nieces which made me feel better. But then we went home again and my boyfriend went to bed. I started crying again because I felt alone and not good enough. I don't know where all of these feelings were coming from but they overwhelmed me. I went to bed miserable, thinking it's the worst birthday I've had in years.
Then I remembered, at least I'm here another year. At least I'm alive. I should be thankful for each new year spent upon God's earth, for each new day.
Thankfully I've been able to come back to my senses and not act on the negative thoughts I had in the car that evening. I apologized to my boyfriend. He apologized too, though he really did nothing wrong. He said he was scared that I was going to break up with him that day which really surprised me. We've been together four years. The thought never entered my mind. In fact, we first became a couple on my birthday four years ago. So my birthday is also our anniversary. Then I started thinking about my last several birthdays. I realized, again, how far I've come:
March 16th, 2010: Turning 26
I still lived in Las Vegas. I worked the night of my birthday. When I came home around 9 pm, my boyfriend had prepared for me a vegan chocolate tofu cake with vegan chocolate tofu frosting and 26 candles. There is a creepy picture of me blowing the candles out. The next day we booked a hotel room at The Palms for a proper birthday celebration. We had dinner at Simon. Later (like 10 or 11 pm) we had chips and salsa and drinks at Gardunos. Then we went over to Palms Place and had drinks at Rojo Lounge. It was sort of dead and there were lots of really old men hitting on really young girls. After that we went back up to our room and drank champagne, no, Prosecco, on our balcony looking out over the city. We knew then that we would be moving in two months. It was sort of my "Goodbye, Las Vegas" moment.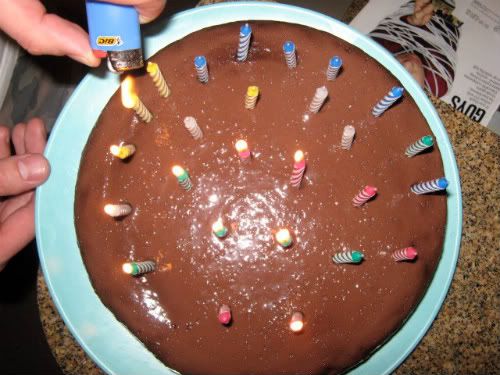 My boyfriend lighting the candles on my tofu cake.
March 16th, 2009: Turning 25
We lived in Las Vegas, though we escaped to San Diego for my birthday celebration. We went to our usual spot, the dog beach in Del Mar (one of my favorite places on earth) and then to dinner in La Jolla at Trattoria Acqua. I wasn't throwing up anymore. After dinner we went to Seal Rock and watched the wild harbor seals diving into the ocean. We stayed at The Ivy. We went to some stupid night club inside. I hate night clubs. We didn't stay long.
Me in Del Mar
March 16th, 2008: Turning 24
This birthday was also spent in San Diego. We went to Sea World. I pet a donkey. I pet a dolphin. We saw the orca whales. We were in town during the Shamrock festival in the Gaslamp district (since my birthday is the day before St. Patty's day). My eating disorder was still very out of control. I was throwing up 8 or 9 times daily. We stayed at a hotel on the waterfront. We sat at a lounge inside the hotel. I had a blueberry martini. It was way too sweet. My boyfriend had a beer.
In Del Mar again, one year younger
March 16th, 2007: Turning 23
I was still an undergrad. This was at the height of my eating disorder. I was so sick I'd dropped out of school for a semester, though by this date I was taking three online classes: Appalachian Literature, Introduction to Nutrition, and The Literature of John Milton. I was working full time at the hospital. My boyfriend flew in to visit me. At that point we were only friends (we've known each other since 2004). He took me to dinner at a local Italian restaurant. I didn't eat much. Afterwards I went in the bathroom to throw up, as customary, but I didn't. Something was different. I told myself, "He bought me this lovely birthday meal. How can I throw it up?" So I made the decision, possibly for the first time ever, to fight against my eating disorder. We spent the night playing Scrabble and eating popcorn. He kissed me. I guess nothing has been the same since.
Can't believe my hair was ever this short. Then again, most of it had fallen out by then.
Birthday Lesson: Be grateful for every year, every month, every day, every moment of life. It's too short to be miserable. It's too short to be sick, scared, unhappy. Afraid.