While making dinner I felt very stressed out and
fat
. My eating disorder kept assaulting me.
Why should I eat? What do I need food for? Isn't this going to make me fat?
Suddenly, I sliced into a tomato and happened upon a little surprise. A much needed reminder: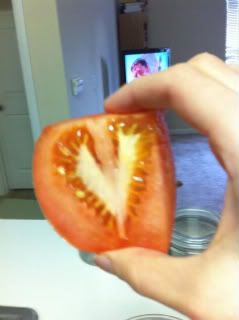 FOOD IS NOT THE ENEMY!
Love your body.
Feed it.
Take care of it.
Love your food.
Eat it.
Enjoy it.
Love your life.
Cherish it.
Thrive in it.